Donna Pinter has been a professional artist for over twenty years. She resides in historic Roswell,
a unique community just north of Atlanta, Georgia. During this time she has participated in more
then fifty group exhibitions and over thirty solo exhibitions (the first of which was at age eleven).
A graduate of the Pennsylvania Academy of Fine Arts and the York Academy of Arts, Pinter has received numerous awards grants, scholarships and commissions for her work.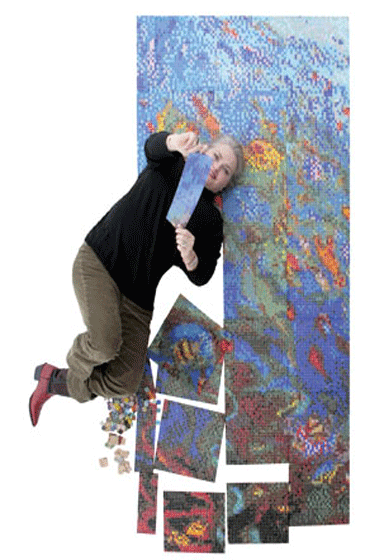 Her list of publications and featured articles are equally impressive,
regionally, she has appeared in Southern homes,Peachtree Magazine,
Philadelphia Magazine, Arts Southwest and Points North.
Her national credits include PM Magazine, Rendezvous Magazine
and Angel Times.
Internationally she has been interviewed on the Japanese equivalent
of 60 Minutes. From an early age, Pinter's goal was to become either
an artist or a healer.
After her first trip to the Pennsylvania Academy of Fine Arts, her fate
was sealed. Pinter's distinctiveness can be described in terms of her
daring use of color and bold gestural style. She built national recognition
from a series of dancers created in pastel; her technique imbibed each composition with life, accurately capturing the illusive spirit and essence
of each dancer.
This series led to her commission with the Russian Boshow Ballet,
and later commissions by the Metropolitan Opera at Lincoln Center,
the Boston Ballet, Ballet Rotaru and the late Rudolph Nureyev.
Also widely recognized are Pinter's landscapes, which can more vividly
be called "dreamscapes." They are windows into another dimension.
Places she has been physically and spaces she frequents only in her wildest dreams.
Undulating across brightly hued surfaces, Donna Pinter's koi creations
are the substance of dreams.